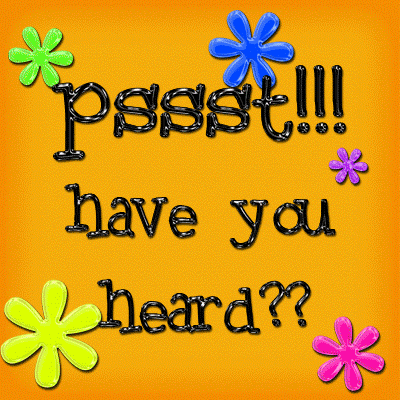 So, I have mentioned it a few times and now it is time to tell you what the big announcement is. If I am honest, it's the worst kept secret in Scrapland, but for those of you that don't know - grab a cup of tea and settle in for all the news! LOL!
A little while ago,
Stacey
(who you all know and love) said that she was thinking of starting her own store and asked if I wanted to be involved. I wasn't sure at first because I was already selling in a store and I had my California trip coming up, but when I got back from my trip, she talked me around! LOL!
The four of us,
Stacey
,
Mel
,
Sara
and I all put our heads together and decided that we wanted to have our own store so that we could sell our kits to our blog readers at reasonable prices - in effect, cutting out the middle man and passing the saving on to the customer! The name
Scrap That Idea
was born and we went on a whirlwind journey from there! Stacey is now our resident geek speak girl - she taught herself (with the help of her hubby) html, php and css in a couple of weeks and had the store up and running for us to launch today!
So, where can I find this new store? I am sure that's what you are thinking isn't it? LOL! Well, as I said, it is called
Scrap That Idea
- click the name to take you to the store, but not just yet - I must tell you some opening special offers.
First of all, we have a HUGE collab by all four of us - it has 32 papers, 63 elements and a full upper and lowercase alpha - it is yours for a mere $4! That's not all though, if you buy the kit, you will also receive a coupon in the download giving you 30% off your next purchase from the store valid until the 31st March. You could easily save the money you've spent on the collab with your purchases throughout March. This is what the kit looks like - I am sure you'll agree it's gorgeous! And below that are some LOs from my CT showcasing the kit - they are also completely gorgeous!
Don't stop reading yet, there's more! If you take yourself off to our homepage, you will see a place to register for our mailing list. If you do so before 15th March, you will receive a freebie QP album (8 12x12 pages) in our first newsletter which will go out on 15th March. I can tell you now, you won't want to miss that - the pages are gorgeous and were made by the four of us!
That's not all! There is also a freebie add-on to the kit from each of us. Today you will get mine and check the other girls blogs over the next few days for more. Click the image to download - you will notice that it will be a direct download - no 4shared ;o)! Well, I think that's enough info from me for now - except to say that there is a
brand new kit in store
from me which I will tell you more about tomorrow - you can see it there now though if you're impatient! Happy shopping!!